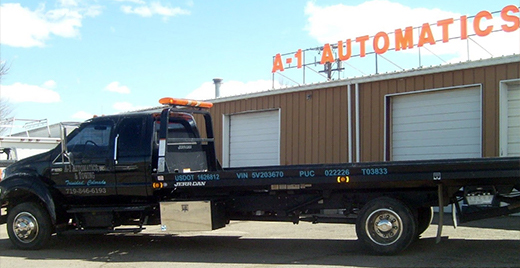 Being stranded on the side of the road is a terrifying and sobering experience. Thankfully, you won't have to wait long for someone to provide you with assistance if you call A1 Automatics & Towing. We pride ourselves in our rapid response times and courteous emergency roadside assistance.
We're the most trusted towing company in Trinidad, CO. Our dedicated teams can haul you and your vehicle to a safe destination. We also offer prompt roadside assistance for smaller errors that may have left you stranded.
Roadside Services
If you're in need of towing or roadside assistance, you should reach out to Trinidad, CO's premier BBB-affiliated towing company. Here are just some of the services offered by A1 Automatics & Towing:
Towing services
We can pick up your vehicle and haul it to a safe final destination. Whether you're hoping to have your vehicle delivered back to home or to our premium auto repair shop, you can count on us to take you where you want to be.
Roadside assistance
A1 Automatics & Towing also offers a premium roadside assistance service. Whether your vehicle ran out of fuel or you're dealing with a prematurely dead battery, our roadside services are here for you.
Free first 10 miles
For a limited time, A1 Automatics & Towing is offering the first 10 miles free on certain towing trips. If you are hoping to learn more about this excellent program, be sure to ask one of our representatives today.
From a simple flat change to get you back on the road, to car towing in Trinidad, CO that takes you back to our shop, trust our team to provide you with peace of mind during your time of need.
Call a Tow Truck
If you've found yourself stranded, there's no need to wait for help. Call 719-846-6193 immediately to receive prompt and safe towing experience. A1 Automatics & Towing is here to provide you with the most dependable roadside service in the region.